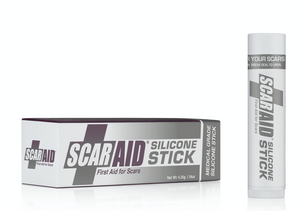 The Scar Aid® Silicone Stick is a revolutionary, patented stick that provides the same physician recommended scar management technology found in silicone sheeting and gels, in an ultra convenient, easy to apply, glide-on applicator.
Features
Patented scar reduction in a revolutionary stick
Designed for all scars, including raised (hypertrophic and keloid), flat and burn scars
No more messy creams or ointments
Fits conveniently in purse or pocket
Fragrance and dye-free
Contains silicone, the ONLY proven topical scar treatment ingredient
Perfect scar treatment for face, and other exposed skin such as the neck, arms, elbows, legs, ankles, feet
INSTRUCTIONS FOR USE
Clean and dry the scar site before each application.
Apply Scar Aid® liberally over the entire scar.
Repeat several times daily for 8-12 weeks or until scar stops responding.
To remove, wipe off with a clean cloth or tissue.
Recommended storage conditions are 55ºF – 95ºF (13ºC-35ºC).
The overall optimal period of use is usually 8 to 12 weeks.