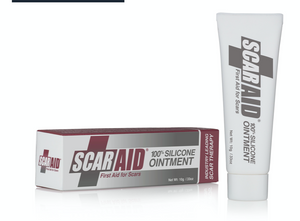 Scar Aid Silicone Ointment is a 100% silicone gel scar treatment, designed for convenient, regular application over small scars. Perfect for discreet application on scar treatment sites where sheets would be inconvenient, impractical, or unsightly. Scar Aid Ointment is a spreadable silicone ointment that is completely transparent.
 Features
The most effective 100% silicone ointment for scars, ideal for:
Hands & Arms
Face
Neck
Elbows
Feet & Ankles
INSTRUCTIONS FOR USE
Clean and dry the scar site before each application.
Apply Scar Aid® liberally over the entire scar.
Repeat several times daily for 8-12 weeks or until scar stops responding.
To remove, wipe off with a clean cloth or tissue.
Recommended storage conditions are 55ºF – 95ºF (13ºC-35ºC).